MSF SpeakInk is an art-based project where we collaborate with talented artists to draw animated illustrations. These illustrations tackle important themes that MSF is interested in raising awareness about it. This initiative was launched by the MSF Lebanon Branch Office in 2019.
Safaa Abuathra - Palestine
Antibiotics Resistance
Antibiotic resistance (ABR), a phenomenon accelerated by the misuse of antibiotics in humans and animals, leads to longer hospital stays, higher medical costs and increased mortality. There were an estimated 1.27 million deaths attributed to bacterial AMR in 2019.
Ghadi Ghosn - Lebanon
World Diabetes Day
While an estimated 463 million people are living with diabetes worldwide, today half of those who need lifesaving insulin can't access it due to a combination of several factors: High prices, challenging storage requirements and complex treatment protocols.
Angie Georgiadi - Greece
Mental Health
Taking care of one's mental health is important at every stage of life, from childhood to adolescence and throughout adulthood. When a mental health crisis goes beyond coping skills, seeking specialized support is key.
Assaad Feghali - Lebanon
International Nurses Day
on International Nurses' Day we wish to express our gratitude to all nurses working tirelessly all over the world who are providing care and aid to communities and populations in dire conditions and emrgency situations.
Tariq Affan - Pakistan
Hepatitis C
An estimated 58 million people around the world live with the Hepatitis C virus (HCV). Although HCV is a curable disease, millions don't have access to proper treatment due to high prices, which leads to the death of hundreds of thousands each year as a result of liver complications. Pakistan suffers from the second highest rate of HCV infections in the world.
Sarah Alinia Ziazi - Canada
Cimate Crisis
"Human health will be increasingly damaged by the negative consequences of the climate emergency. Failing to act now would mean breaking our medical and ethical obligations towards patients and communities"
Dr. Christos Christou, MSF International President
Ncediwe Patricia Nama - South Africa
World Tuberculosis Day
On the World Tuberculosis Day, meet Busiswe Beko, a Drug-Resistant Tuberculosis (DR-TB) survivor, who became a trained counsellor working with MSF on the DR-TB program in Khayelitsha, near Cape Town.
Priscilla Barbosa - Brasil
Access to COVID-19 Vaccines
We won't be safe from COVID-19 until the last one of us gets access to the vaccine. The pandemic has highlighted the great disparity between rich and low- and middle-income countries.
Together, let's ensure that all people around the world can benefit from life-saving vaccines.
Rafik Hariri - Lebanon
Mental Health
Difficult circumstances affected many people around the world throughout the past two years. We witnessed a global pandemic that restricted our movement, in addition to various social and economic crises, all of which tested our mental health in many ways. Please take care of your mental health. We all need psychological, social and medical support!
Abeer Anabtawi - Jordan
Antibiotic Resistance
We all have a role to play in the fight against Antibiotic Resistance. Don't overconsume antibiotics. The irrational use of antibiotics can lead to antibiotic resistance.
Alia Alhamadi - UAE
Syria Decade-Long Conflict
After 10 years of war, the arrival of the pandemic and the severe economic crisis in Syria exacerbated the humanitarian and medical needs of the Syrian population, leaving around 13 million people in severe need.
Nuria Espinoza - Spain
Tuberculosis
Tuberculosis is not a disease of the past, it still kills people and is among the ten most common causes of death around the world.
Sasha Haddad - Lebanon
MSF 50th Anniversary
MSF has been operating for 5 decades in many countries around the world and under extraordinary circumstances, because we believe in people's right to access medical care regardless of gender, race, religion, creed or political affiliation.
Jorge Montoya - Spain
Infection Prevention Week
On the international infection prevention week, hand hygiene remains one of the most important and effective methods for reducing the spread of infections. The covid-19 pandemic has demonstrated that effectively applied hand hygiene prevents the spread of disease.
Marah Zada - Jordan
Access to Health Care
Access to medical care and medicine is not a luxury for those who can afford it, but a right for everyone. Access to health care must be affordable for people who need it.
Paula Cruz - Brasil
Health Promotion
Health is not limited to the absence of disease, but rather includes a group of elements, such as providing people with information and guidance about good health practices, treatment and care, as well as education, housing and safe working conditions. Together, these elements make an impact on the health of the community.
Nourhan El Kady - Egypt
Sexual Violence
Sexual violence destroys the lives of millions of women, men and children. Stigma and fear are obstacles that prevent these victims from breaking the silence and seeking necessary health and psychological care.
Enrique Sanudo - Mexico
Search & Rescue
People are loosing their lives while trying to cross the most dangerous migration path in the world as the sea swallows their bodies. MSF intends to continue saving lives to reduce the horrific incidents happening at sea.
Ana Villanueva - Mexico
Speaking Out
We are not afraid to speak out when we witness
atrocious violations of human rights! Neutrality is not synonymous with silence.
Ismail Moneer - Egypt
Appreciation to all people engaged in the COVID-19 response
The world is still facing the Covid-19 pandemic, the variants, and the limited availability of vaccines against the virus. Join us in expression our solidarity with all those who have faced and are still facing this disease, including patients and frontline workers.
Khalid Mezaina - UAE
Working in the Field
Abeer Anabtawi - Jordan
Appreciation to the Medical Care People
The COVID-19 pandemic has put countless lives at risk in 2020.
We would like to pay tribute to healthworkers around us who have faced or still are facing this health challenge on the frontlines.
Rafik Hariri - Lebanon
Tuberculosis
Tuberculosis (TB) is the world's deadliest infectious disease. It kills millions of people around the globe.
MSF advocates for access to better and more affordable TB medication to keep this disease under control.
Alia Alhamadi - UAE
People on Move: Migrants & Refugees
Seeking safety, wherever in the world, is not a crime! Neither individuals nor governments can deny people their dignity. Violence and demeaning practices against migrants should be stopped.
Sasha Haddad - Lebanon
Sexual Violence
Millions around the world fall victim to sexualviolence, especially women. But stigma, fear and other obstacles prevent victims from seeking the vital medical and psychological support they need.
MSF calls for the silence to be broken and for making medical and psychological support available to all sexual violence survivors.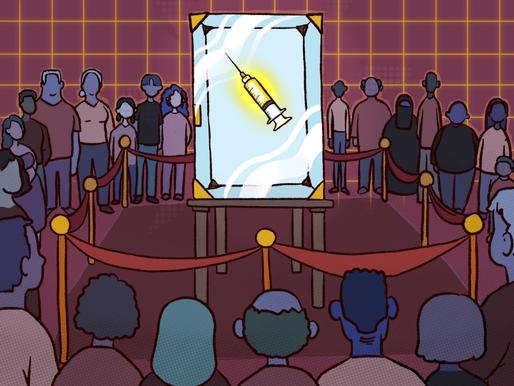 Deena Mohamed - Egypt
Access to Health Care
We're in the middle of an unprecedented global pandemic, and some pharmaceuticals appear already gearing up to make huge profits from the long-awaited vaccine.
Let's make sure that people all over the world can benefit from lifesaving vaccinations.
Marah Zada - Jordan
Antibiotic Resistance
We all have a role to play in the fight against the global threat that
is Antibiotic Resistance, and It starts with you.
Khalid Mezaina - UAE
Speaking Out
"We are not sure that words can always save lives, but we know that silence can certainly kill" -- Dr. James Orbinski.
Neutrality is not synonymous with silence
Ismail Moneer - Egypt
Mental Health
Many of us experience episodes of stress or sadness during difficult times. It's normal to not be able to get through these experiences alone sometimes. Never hesitate to seek psychological or psychosocial support, we all need it.
Rafik Hariri - Lebanon
MSF Identity
A life-saving medical and humanitarian response reaches out to communities all over the world. Under the umbrella of MSF SpeakInk, we have collaborated with artist and illustrator Rafik EL Hariri in an effort to illustrate his perception of MSF Identity as being an independent medical and humanitarian body. MSF was founded in 1971 in Paris by a group of journalists and doctors. Today, we are a worldwide movement of nearly 67,000 people in more than 70 countries. Our actions are guided by medical ethics and the principles of impartiality, independence and neutrality.
Salam Yousry - Egypt
Mental Health
Witnessing or being exposed to acts of violence of any kind can incite traumatic experiences which ultimately affect the state of one's mental health. Mental illnesses are a recurrent phenomena, and can be experienced by everyone at some point in their lifetime, taking on different dimensions. Mental health issues are apt to be treated effectively, and should not be stigmatized, however so, communities should actively engage in supporting individuals struggling with their mental health.
Salam Yousry - Egypt
Migration
Migrants and refugees are often people who have been forced to leave their country because of insecurity, war, persecution and lack of opportunities for them and their families. They are not inherently weak or vulnerable as individuals. Their vulnerabilities are often related to the trauma of having to leave everything behind and the many physical, legal, administrative and cultural barriers they find on their way to a safer and better life.
Sasha Hadad - Lebanon
Antibiotic Resistance
Self-medicating without consulting your doctor can contribute to the development of antibiotic resistant bacteria. Antibiotic resistance happens when antibiotics lose their ability to kill bacteria, which, along with viruses and other pathogens, have the ability to continuously adapt and change to survive. That said, if we don't use antibiotics correctly, bacteria could keep adapting over time to the point where antibiotics completely lose their effectiveness in the future.
Mohamad Koraytem - Lebanon
Access to Health Care
An Inaccessible Right. Under the umbrella of MSF SpeakInk, we have collaborated with artist and illustrator Mohamad Koraytem, in an effort to illustrate his perception of the dire and restrictive accessibility to healthcare in Lebanon, particularly the vulnerable communities. Lebanese healthcare system is highly segregated and privatized, which makes vulnerable communities struggle to access healthcare and administrative services required for treatment.
Yasmine Shash
Sexual Violence
Sexual violence affects its victims in ways that go beyond the moment of the specific violence. It also goes much beyond its physical nature and affects the person in his entirety. Survivors of sexual violence often find themselves dissociated from their own bodies, alienated from the world around them. They lose confidence in themselves and in everyone around them. In many cases, they experience mental entanglement, and their pain and suffering affect all the aspects of life.
Mohamad Al Shinnawy - Egypt
Work with MSF
Working with MSF represents choosing a humanitarian career path. MSF offers opportunities for professional development, which guarantee the sustainability of our medical humanitarian action as we strive to offer quality services to the most vulnerable people around the world. These opportunities also offer our employees the chance to develop their skills and advance in their career paths.